Banjacs are a lively and very experienced barn dance, ceilidh and folk band, playing exciting and entertaining music, great to dance or listen to and always fun.
Based in North Worcestershire in the West Midlands, we have played for numerous social events, weddings, club, corporate and charity events, all around the country, and provided New Years Eve, Burns Night and St Patrick's night celebrations.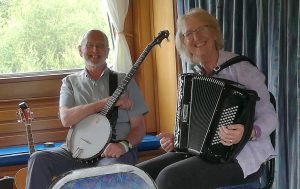 Banjacs are based around Dei Perks playing piano accordion and Keith Perks playing banjo. We play as a duo but also as a 3 or 4 piece band with Gaynor Butler playing guitar and Frank Dudley playing Fiddle or electric Bass. We are all very accomplished and experienced musicians and combine to create really excellent dance music.

The Music  –   Listen to a sample track here –     sample track 
CD also available on request. 
See us on youtube        http:youtu.be/TMn3sDw5-tc
We have an exciting repertoire of barn dance and ceilidh music, jigs, reels, hornpipes, and slow waltz, a mixture of English, American, Irish and Scottish tunes, plus all the regulars Cumberland square eight, Gay Gordons etc, always played with energy and bounce and guaranteed to get your feet tapping and everyone onto the dance floor.
Callers
The booking always includes a caller. We work with several excellent callers who are experienced at working with all levels of ability from complete beginners to experienced club dancers. Our regular callers, are Gaynor from the band, Roger Middleton, Alan Ferguson and Eve Evans, all very experienced callers who always make the dancing great fun. No previous experience is required as the caller will walk through the dance first and continue to call the moves throughout the dance.
Great for any informal social event, barn dances and ceilidhs are great for getting everyone mixing and always create an enjoyable atmosphere even if you're just a spectator.
Folk Band
When performing as a folk band Keith is our main vocalist and we're often accompanied by our friend Simon Griffiths who adds his great voice and guitar to our performance. Our eclectic repertoire of traditional and contemporary songs from many different folk genres includes old time American, country and bluegrass and a wide repertoire of Irish music and songs including all the favourites, Fields of Athenry, Wild Rover, Whiskey in the Jar etc, always lively and entertaining.
We also play regularly for the Sytchampton Folk Dance Club and run a weekly music session at The Plough, Wollaston, Stourbridge and a monthly session at The Swan Hotel in Stourport on Severn.
The Cost
Banjacs are a very versatile band and can offer a variety of entertainment options with a flexibility in price that enables us to accommodate most budgets. The final cost will depend on the size of band that is chosen and what and where the event is. As a duo we are perhaps more suited to a smaller event but we are equally happy to provide a larger 3 or 4 piece band.
Bookings
Book Banjacs for your event and you are assured a lively, professional performance tailored to your special occasion with the emphasis always on fun.
For further information and to discuss your requirements please contact Keith and Dei.
                      Phone   01299 823037 or 07790259019
                      Email   deirdre.perks@btopenworld.com